Projects News
Successful Delivery of 32M ASD Tug "AL MOBIN 4" by Yuexin
Source:Updated Time:2016-04-12
One unit of 32m ASD Tug, Vessel Name "AL MOBIN 4", was successfully delivered by Guangdong Yuexin Ocean Engineering Co., Ltd under a Palau flag to Middle East Buyer on 12 April 2016.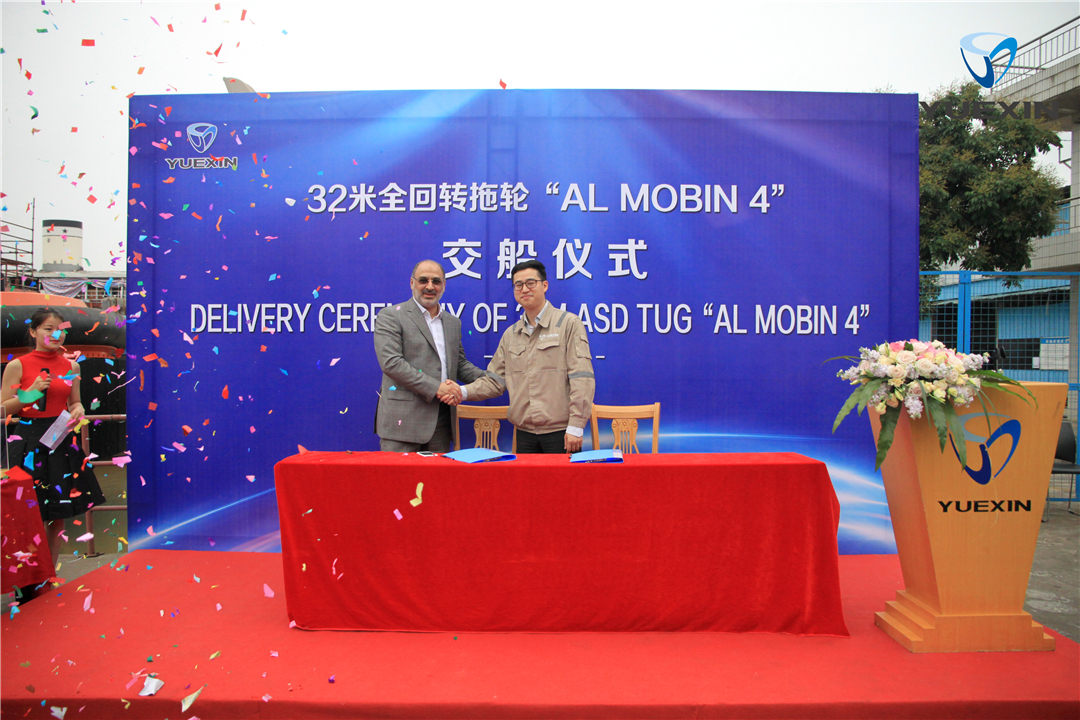 The vessel is under the survey of LR, with notations as following.
LR1, HULL, MACH, Tug, Unrestricted Navigation, Fire-Fighting Ship1- Water Spraying, Inwater Survey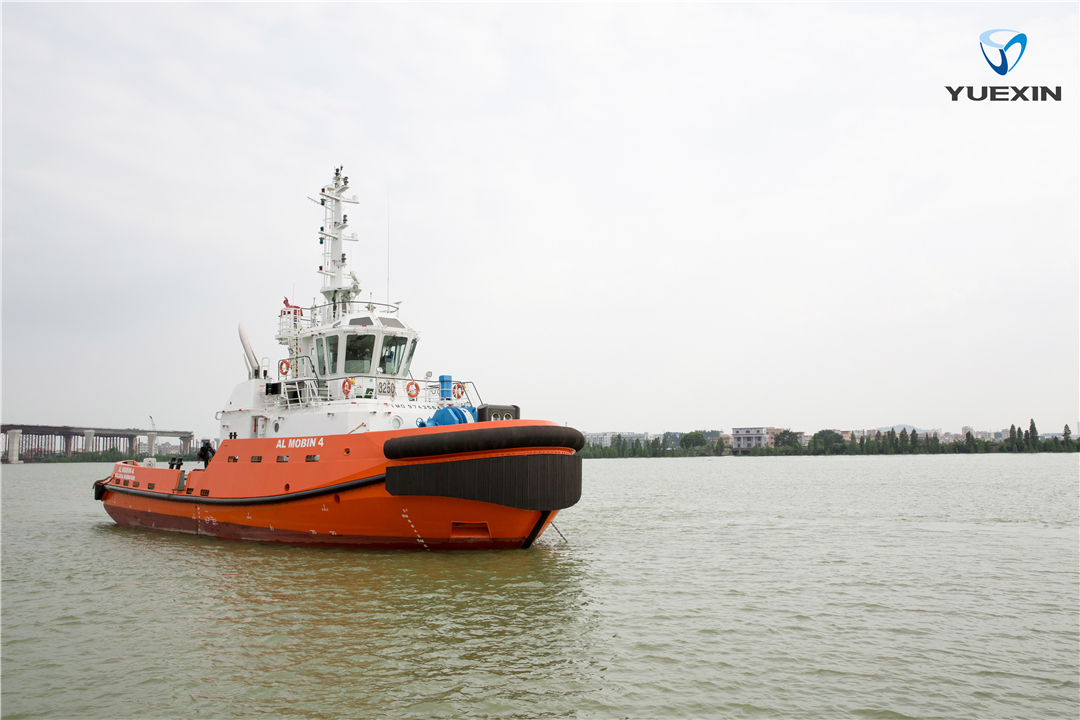 Applying the basic design of Rampart 3200 from Robert Allan Ltd. and satisfying the rules of MLC 2006, this tug measures 32 meters in length overall, with a beam of 11.6 meters, a moulded depth of 5.36 meters and a maximum draft about 5.81 meters. The admirable design makes the vessel carries 205m³ fuel oil, 30 m³ potable water, 5 m³ foam, 113 m³ ballast water, 2.5 m³ dispersant and 1.3 m³ sump oil. This tug not only can assist the large vessel to dock in or left out port but also equips with FFS class1 FIFI system and anti-pollution operation for environmental protection.
With excellent navigability and maneuverability, the designed speed reaches 12 knot with the bollard pull of 70 ton. It is powered by two Caterpillar 3516C main engines each rated at 2682BHP, driving twin azimuth thrusters Schottel SRP 1515FP. The electrical plants consists of two Cummins 6CTA8.3-D(M), each with a power output of 110eKW.
Moreover, the excellent internal design is a brand new design with strong practicability, worked out by domestic famous marine internal design company Blue Ocean. With " home like" design concept, the designer combines comfort and functionality in the work.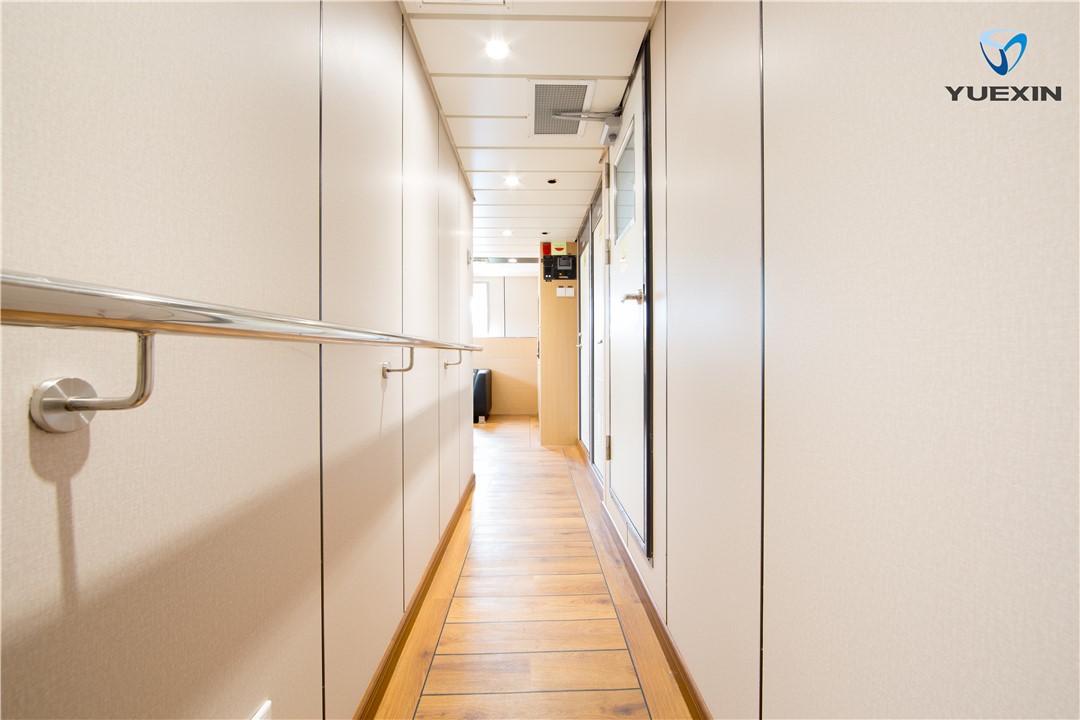 Vessel main particulars:
Ø Length of Overall: 32.00 m
Ø Beam Moulded: 11.60 m
Ø Depth Moulded: 5.36 m
Ø Design Draft : 5.81 m
Ø Bollard Pull ahead: 70 T
Ø Fuel oil: 205 m³
Ø Potable water: 36 m³
Ø Ballast water: 113 m³
Ø Oily water: 1.1 m³
Ø Waste oil: 1.3 m³
Ø Sewage holding tank: 1.3 m³
Ø Foam tank: 5 m³
Ø Dispersant tank: 2.5 m³
Equipments:
Ø Main Engine: 2xCAT 3516C 2682BHP
Ø Azimuth Thruster: 2xSchottel SPR 1515 FP
Ø Generating Set: 2x Commins
Ø Firefighting System: FFS
Ø Pumps: Azcue
Ø Fwd Winch/Windlass: MacGregor
Ø Aft Towing Winch: MacGregor, pull rate at 20t x 0-10m/min. Break holding 150t
Ø Towing Hook: MacGregor, 70t
Ø Deck Crane: Palfinger, 1t @5m
Go back